Like any online store owner who's setting up an SEO strategy, you will come up with THE keyword question: How do you create an efficient keyword strategy for your online store?
To grow your sales, you've decided to use SEO to optimize your online store. Where can you find ideas, the right keywords to choose or even how to use them? This article is here to guide you create the perfect keyword strategy for your business. Let's explore the different query types and on-site optimizations you can use and some useful tools for your keyword strategy, as well as techniques for testing and monitoring the performances of the optimizations implemented.
What are the different search queries on Google?
Every day, 3.3 billion queries are made worldwide. When using the search engine, each user has a very specific idea in mind: to find a business, go to a website, buy a product, compare different offers etc. There are many reasons for using Google and there's a query type hiding behind every intention.
Throughout the purchase funnel, the prospect will make different types of queries that evolve over time.
Generic queries

A generic query is made by a user searching for a product or service using common keywords, also called generic keywords. These are not the same as branded queries, which contain a brand name. The prospects know what they want, but don't know where to find it.
Examples: "inexpensive new car", "holiday price in Bali" or "second hand smartphone".

This query is made to find information about something specific and is most often made by professionals or enthusiasts.
Examples: "online store keyword strategy", "improve my SEO" etc.
Navigational queries
These are used to find the website of company the user already knows about, but doesn't know the website address or hasn't saved it in their favourites. Navigational queries make up around 50% of all queries.
Example: " Amazon", "Semji", "SNCF" etc.

Informational queries usually start with "How" or "Why" and are made by online users looking for information on a specific subject. The result of the query can be displayed in zero position on Google.
Example: " How can I lose weight?", "How can I stop smoking?" or "How do I write a CV?" etc.

Informational queries usually start with "How" or "Why" and are made by online users looking for information on a specific subject. The result of the query can be displayed in zero position on Google.
Example: " How can I lose weight?", "How can I stop smoking?" or "How do I write a CV?" etc.
How to optimize the webpages of your online store using the right keywords
Your online store website must include a page to introduce your company, in which you can use a fair number of generic keywords referring to your brand. If you already enjoy widespread reputation, brand keywords are very important! Take extra care of your TITLE tags, they must include the name of your brand at the beginning, details on your business and the unique products you sell.
In your content, don't forget to include long tail key phrases, as well as keywords related to your brand. You can get ideas for keywords from your suppliers' contents, but be careful not to duplicate their content!
We recommend writing content of at least 800 words long for your brand page.

Keywords for the category pages of your online store
Similarly to the brand page, the category pages must include as many generic key phrases and keywords related to your brand as possible. This will allow you to cover all of your business' semantic field and multiply the entry points to your e-commerce.
Don't forget to also include transactional-type queries such as "Purchase + name of your product / brand" or "Sell + name of your product / brand".
The content of a category page must be between 300 and 500 words.
Optimise the keyword strategy of your product pages
There are many ways to optimize your product pages' SEO. The keyword strategy of your product pages must be based on your product names and features. For example, everything related to colour, size or features must be mentioned on the page. The aim is to succeed in ranking your webpages on long-tail keywords as well. Usually, long-tail keywords have great conversion rates as they help online users find exactly what they're looking for.
Once again, just like like category pages, don't hesitate to use transactional queries (buy, sell, price etc.). Each product page must be at least 300 words long to rank well.

How to optimize e-commerce SEO?
The TITLE tag is essential for ranking your online store
The TITLE tag is the most important tag in SEO! Google–bots use this tag to understand what your page is all about — to understand its topic. Each page of your website must include a unique TITLE tag and the most important keywords must be placed at the beginning.
Use META DESCRIPTION to get more clicks
The meta description tag must sum up your page's content and attract visitors. On a result page, this is the first thing users will read about your webpage and get them to click and eventually convert. Do not use too many keywords, otherwise you might be flagged as spam. Simply provide content related to your product.
Hn tags are used to organize your content and also specify the degree of importance of each title to the robots browsing your pages and, of course, to users. A page can have only one H1 and it must include the main keywords. Then, you can add several H2, H3, H4, H5 or H6 depending how detailed your content needs to be. It is essential to always stick to the right hierarchy!
SEO-friendly URLs
Sometimes overlooked, URLs are also very important in SEO, even if their optimization alone won't do marvels! Don't hesitate to include strategic keywords as search engines use them when displaying results.
If you have a product catalog, don't try to fit the entire breadcrumb into your URL, but choose a short, concise URL. Why? It will be easier for you if you need to change the name of a product category later on. If you're already happy with how you SEO is performing, don't change the structure of your URLs!
Unique, SEO-optimized content
Once the structure of your website has been optimized, it's time to look at creating content, deep pages and product pages. Content marketing can be a great way to drive traffic, so be creative and write UNIQUE content. When using main and secondary keywords in your content, don't forget to create links (mesh) inside your e-commerce website. Internal linking will allow your visitors to discover other products or services that might interest them and increase the size of their cart!
Set up your Schema.org tagging or semantic tagging

The use of structured data markup allows functional and visual elements to be used to let Google know who you are and what you do. This will improve the indexing of your e-commerce pages, thanks to microdata which give important information to Googlebots. Rich snippets are generated based on this microdata, from which the web user can determine whether a content is interesting or not.
With this type of tagging, you can highlight your product's ratings, the number of reviews, its price, its technical characteristics, its stock…
Enrich your keyword base
To widen your horizons and stay ahead of your competitors, keep your keyword strategy up-to-date. Google's objective is to give users the most relevant results. To do this, the American giant is continuously improving its LSI algorithm to improve semantic search.
To stay ahead of the curve, SEO-wise, don't forget to enrich your keyword database to strengthen your website's semantic cluster. Adding new keywords to your predefined semantic field is a great way to find new sources of traffic. For example, you can add synonymous keywords or even keywords with spelling or typing errors. Just be creative!
Looking for inspiration? Try Semji for free to quickly identify interesting queries on a given topic.
Keep building your long tail keyword database
Long tail includes all the low competition keywords and phrases (generally more than 3 words) that drive little traffic. But, because of low competition, it is easier to rank your online store on long tail phrases and drive large amounts of traffic on the long term. About 25% of queries entered every day in Google are new to the search engine. These new queries are new entry points to your online store!
Find new keyword opportunities
Stay on the look-out for changes in your industry and keep an eye out for new keyword opportunities. They can be related to an event, current affairs, a new and growing trend or even a word used by a competitor. Pay attention to the words your customers use as it can help you find new ideas. Depending on the products you sell, remember that your target audience can be very diverse and broad.
The best tools to find keywords
There are many tools to help you build your keyword strategy. Here's our selection of tools to find new keywords:
Google Keyword Planner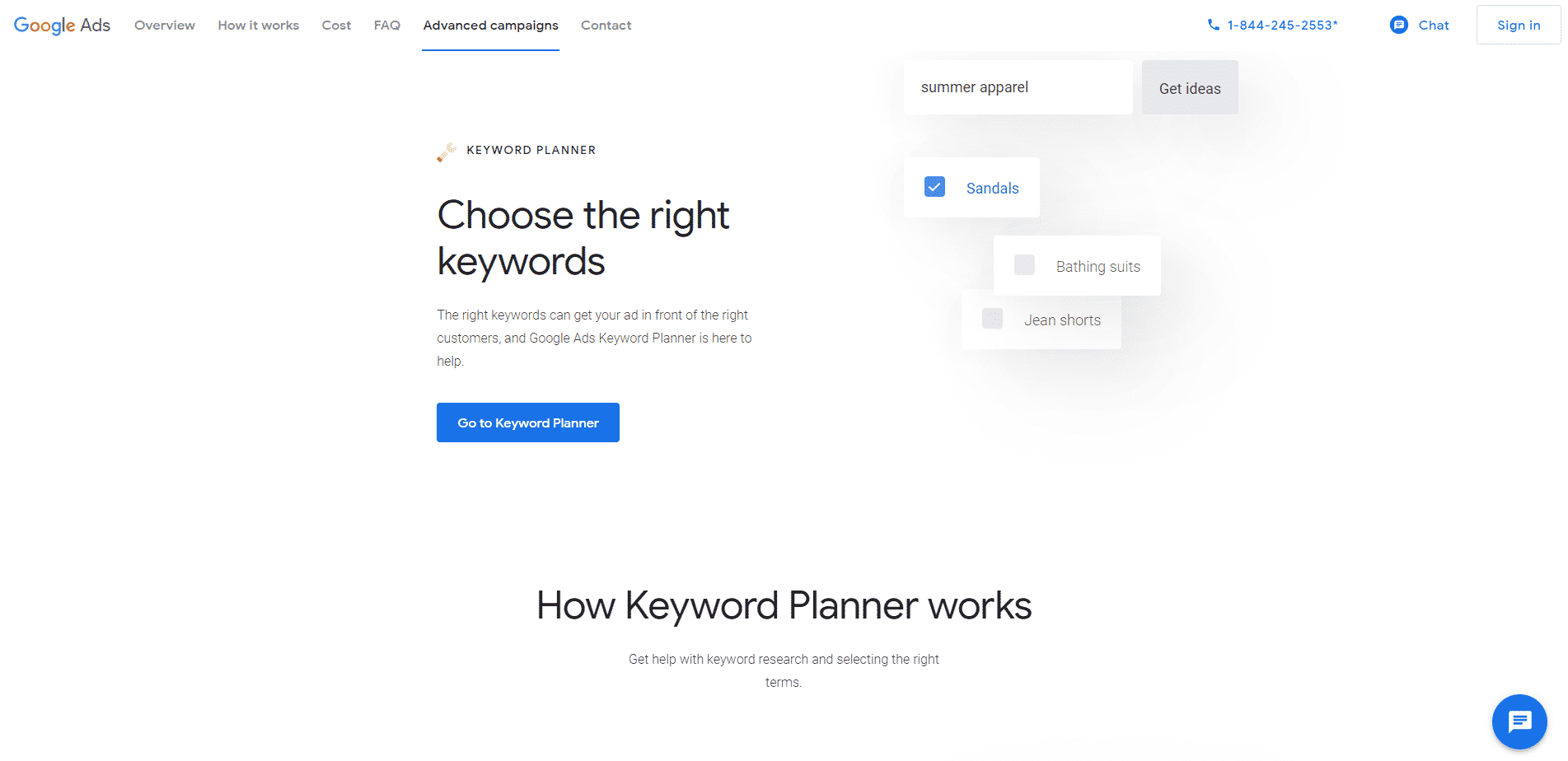 A tool from the American giant itself, Google Keyword Planner is very powerful and free. It can help you find ideas for new keywords, as well as their traffic potential. The statistics can tell if a keyword is highly competitive or not.
SEMrush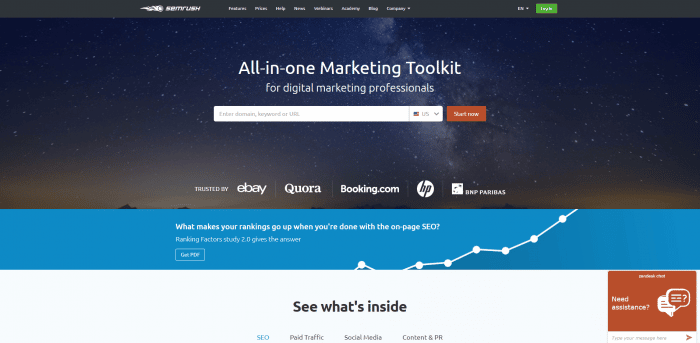 Known to every SEO agencies, SEMrush is very powerful and considered by most as the industry leader. This comprehensive tool will be essential in building your SEO strategy — audit, keywords, competition analysis, backlinks, rankings etc.
Ahrefs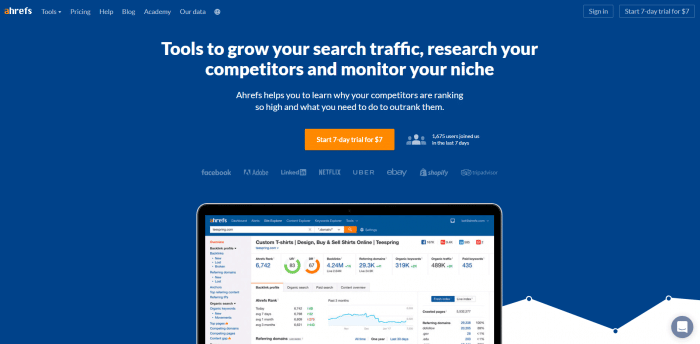 Ahrefs (similar to SEMrush) will help you identify the keywords on which your competitors appear in the search results, as well as traffic volumes. This will allow you to better understand your competitors' strategies – and outrank them!
KWFinder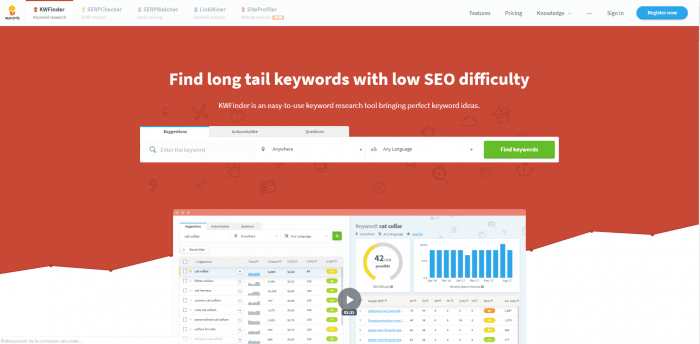 KWFinderis a powerful tool that will provide you with the monthly search volumes of a keyword and help you find new ideas of related keywords to expand your semantic cluster.
Answerthepublic.com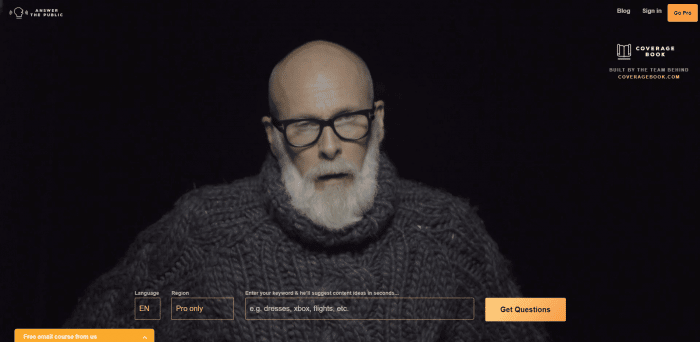 Perfect for finding new content and keyword ideas to add to your list, AnswerThePublic displays the different queries related to a keyword in a "spider web" format.
With this toolkit, you will be able to build the best keyword strategy for your e-commerce!
Test and analyse the efficiency of your keyword strategy
To optimize your keyword strategy, closely monitor changes in the search volume of the different queries and perform multiple tests to find the best match. These analyses will allow you to identify the most promising keywords and those that add no value to your strategy.
Rank tracking
To assess the potential of each keyword or expression you should keep track of their performance. By having insight on how your ranking is evolving, and on the impact of each keyword, you can readjust your SEO strategy accordingly. It is useless to stick with a keyword if it does not meet your objectives.
You can track the performance of a keyword based on the clicks it generates and the traffic it drives. But the real issue is to know if this traffic is qualitative or not. In other words, are your visitors potential buyers, or simply lost online users?
A/B Testing methodology on density for weighting
Contrary to what many believe, A/B Testing is not only for defining which design or content works best. This technique can also help you improve your SEO and drive new conversions.
How does it work?
Thanks to algorithm tools such as X or Y, you can define the semantic score for each of your e-commerce's webpages. With A/B testing, you can test new keywords or new key phrases on several product pages and define which SEO optimizations are the most efficient in terms of SERP ranking and user experience.
Here are 4 steps to help you design an efficient keyword strategy for your online store:
Define

the

different

types of queries

related

to

your business, as well as generic and specific keywords

.
Proceed

with

an

on-site SEO optimi

z

ation of your online store: tags, URL, content

marketing,

 

semantic analysis

 

etc

Constantly

add new

keyword

s to your

data

base to

keep your

website

up-to-date with the latest trends

.

Run regular

performance analys

es

of each keyword and

adjust

your strategy according

ly.