What is analysis or semantic searching?
Definition of semantics
Before getting started on semantics applied to search engines, let's first define semantics. 
Semantics is defined as "a branch of linguistics that studies the signified, what we talk about, what we want to say. Its symmetrical branch, syntax, deals with the signifier, its form, its language, its writing, its grammar…". The word semantics is derived from the Greek σημαντικός (sêmantikos), "signified" formed from σημαίνω (sêmainô), "to signify, to indicate" or σῆμα (sêma), "sign, mark". It was introduced at the end of the 19th century by French linguist Michel Bréal, author of the first treatise on semantics.
From the Greek SEMA (meaning), the term "semantics" refers to the study of meaning, the meaning of a word. Applied to search engines and SEO, "semantics" essentially refers to the study of words and their meaning. Since its beginning, Google tries to understand user intentions. With the advent of AI First and Voice Search, an important part of Google's algorithm is based on semantic research and on machine learning algorithms.
Semantic research aims to improve the understanding of search by analyzing the user's intention to provide more relevant results. Some platforms such as Semj are designed to help marketers, SEO experts and editors to quickly understand the search intent behind a query. In a few clicks, it's possible to know which topic to cover in a content, which words to use, which answers to provide to online users.
Why carry out a semantic analysis in SEO?
There are several reasons why you should do an SEO semantic analysis for your website. First, semantic analysis allows you to know user intentions on keywords or phrases/queries entered in the search engine.
Second, semantic analysis allows you to answer to different types of queries:
navigational queries,

to

acces

s

a website or

a

page

(for example,

"

Facebook

"

,

"

town hall, Paris 6th

district

"

,

"

semantics

"

)

informational queries: the user is looking for specific information (for example:

"

how to carry out a semantic analysis

on

my website

"

or

"

how to learn Ancient Greek

"

)

transactional queries

with

a purchase intention (

"

buy a dictionary

"

)

local queries which

are location-based

quer

ies

(

"

Eat Greek food in

Paris

"

)

you can also extend

this

to visual / video / news / brand

 

queries or multiple intent queries.
To know if your content targets the right keywords and truly answers the questions users are asking, you can test Semji for free.
Google's algorithms constantly analyse web pages to "rank" them according to their relevance and help users.

For the SEO of your website, it is essential to take into account Google's criteria in terms of semantics and to apply them. An important element for your website's offsite SEO is to precisely identify the most searched keywords. Google prefers content that contains this list of words, as it answers user queries.
In fact, the search engine retrieves the 10 first results on the SERP (Search Engine Result Pages), analyses its content and highlights the most recurrent words, to identify the different interests of a reader on a topic.
How can you do a semantic analysis?
To do a full semantic analysis, there are a couple of tools designed for semantic analysis as part of an SEO strategy. To ensure your content is good enough for Google, you must identify these keywords and add them to your content in a relevant way.
Beyond simple keyword generators, we now use semantic analysis, linguistic analysis and lexical analysis software.
We usually use the terms "text mining" and "text analytics" to define the analytical technology for text data.
The purpose of these tools is to identify similar semantic phrases you could use to improve the relevance of your content.
Following up on our article on "Semantic analysis: the ultimate weapon for boosting your SEO", it was important for us to share the tools used by SEO agencies to help you carry out your audit or semantic analysis.
What are the best tools to do a semantic analysis?
Semantic analysis tools can be used to identify users' intentions, keywords or phrases. They reveal the needs of online users on a given topic and generate a list of words that they expect to find in the text to answer their question.
Here is a list of the top SEO tools that can help you get started with semantic analyses. Free tools like Alize can be interesting but are limited. Premium tools will give you more insights. The free trial version of Semji will help you get started and optimize your first contents. With our recommendations, you can target the right search intent to become THE most useful and relevant answer to your audience.
Semji
Semji is a premium semantic analysis platform to optimize the performance and visibility of your content on search results pages.
Created by SEO and content marketing experts, Semji supports companies in their content marketing strategy. Semji was designed to attract, engage and convert leads through content.This content marketing platform makes it easy to produce content that converts while tracking your KPIs in one place.
What are Semji's features?
Powered by artificial intelligence, Semjiidentifies the topics that need to be covered in content around a given keyword to meet user expectations.
Advantages:
Guarantees the production of effective content that

meets

your audience

'

s search intents.

Suggests the most strategic keywords for your

web

site

Builds a consistent semantic

architecture

, with

efficient

SEO linking

for

your

web

site

to become

the most

relevant

on

a topic

Track

the impact of your content

,

traffic, conversion

rate

and turnover

Get help from an

SEO/Content marketing expert to reach your SEO and Content goals faster

C

ontent optimi

z

ation

available in

8 languages

across

128 countries
Disadvantages:
Does not check the structure and architecture of a

semantic cluster

Do you want to create useful, visible, profitable and eff

icient

content?

 

Semji

 

helps

you become THE leading brand in your

industry

and to

rank in

top positions.

Alyze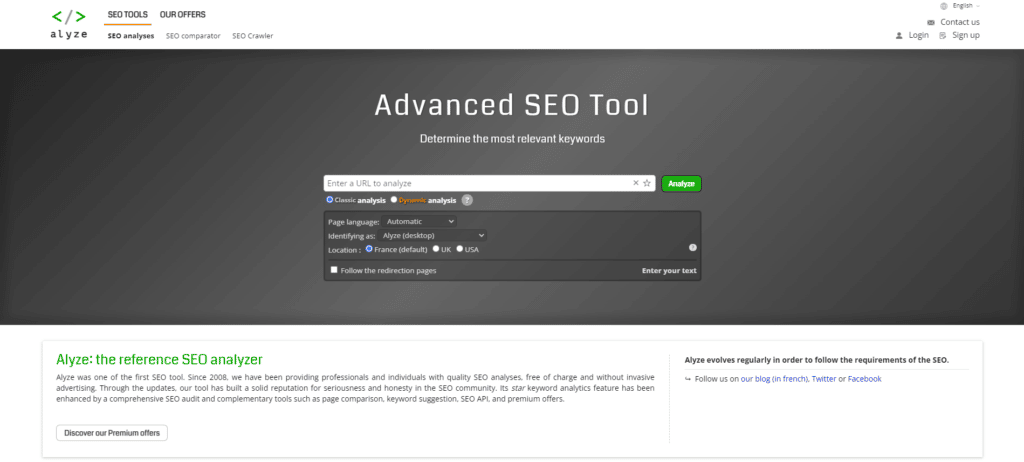 Alyze is a free semantic analysis tool, created by a French company in 2008. This SAAS software is a great way to perform semantic analysis for free. It's easy to use, simply enter a URL in the main search bar to get data on the word density of a webpage.
How's the data displayed?
Alyze analyses the content of the page entered and highlights the keywords based on to two criteria:
The gross density: the number of times a word appears on the page.


Example: For the

phrase

"

semantic analysis tool

"

, its gross density will be 0.56% in this text.

The weighted density: refers to the number of times the keyword appears on the page

by

also tak

ing

into account its position (Title, H1, paragraph etc.) and calculates its density

based

on

this criteria.
During a search, the software will by default sort the results by weighting, but you can also click on "Associations" to group keywords based on their frequency and similarity.
Advantages:
S

oftware s

peed

Suggest

ions for improvement

Free semantic analysis tool
Disadvantages:
The data is sometimes complex to read
The website is a bit outdated and hard to use
Alyze is a basic tool, used for weighted density data, but remains limited for more advanced semantic analyses.
YourTextGuru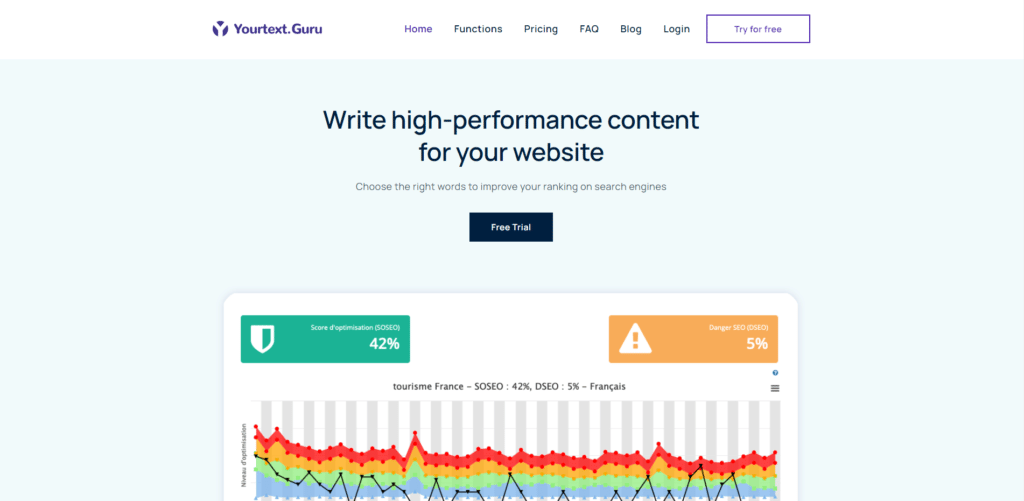 YourTextGuru is a search-intent based tool that provides writing guides. For content marketing, it is a very useful tool to write content while saving time for writers.
This software allows you to create a list of related keywords based on the keywords you enter in the search bar.
They have two offers : 
The

 

Premium guide

 

creates a precise and comprehensive list of top keywords. You will find "top terms" divided into 3 levels, from the most used to those that are often used but with less importance, as well as entities such as brand names and personal names related to your word.

The

 

one-shot guide

 

offers a drafting plan with some keywords from the Premium guide. There is a version

created

and

organized

by YourTextGuru operators. This guide

will

help

you draft briefs more quickly if you

'

re not familiar with the

topic

.
YourTextGuru simulates Google's text treatment relevance, retrieving texts on the same topic and identifying the most important key phrases by automating the search.
Advantages:
Writing assistance
Time saving
Disadvantages:
Not 100% reliable on the keywords found
Price / quality
1.FR

1.FR is a semantic analysis tool that allows you to analyze the content of search engine results according to a specific search. This software enables the optimization of the lexical fields that should be used on a website, a webpage or an article.
How does 1.FR manage to extract these lexical fields?
By analyzing your pages and those of your competitors, the tool highlights the words and phrases that best meet Google's algorithm expectations.
It's quite easy to use. All you have to do is enter your keyword in the search bar on the home page and choose your search engine (Google or Bing). Then, you can either copy and paste your text or enter the URL of a page.
Once you have completed these steps, all you have to do is check your score on both the structure and content of your text.
This SAAS software highlights 5 things:
S

core on the

structure

of your text (sentence

length

,

use of different

verbs, etc.)

S

core

on

the

content

of your text

Topic

(s) your

web

site

covers

Missing keywords in your content (only available

in

the paid version)

Relevant keywords that are already included in your content
Compared with other tools, 1.FR is very simple to use and also very efficient. In addition, you get an overview of the words and/or phrases on a given topic.
In the paid version, you can upload a report of your analyses and create a public link to share, available for 7 days.
Advantages:
Helps

you

create semantic

clusters

Time saving

Allows you to export data

Extension available on Google Chrome and WordPress
Disadvantages:
Not very user-friendly interface
A bit expensive

considering that it is possible to do the

 

same thing by

using

different

free tools.
SEO Quantum

SEO Quantum is a comprehensive semantic analysis tool with recommendations to optimize your website's content. As mentioned above, the most important for Google is that your content provides value for the user. SEO Quantum was created for this purpose.
From a keyword, SEO Quantum analyses the first results of the SERP and extracts the lexical fields. Two technologies are used, one is a crawler to extract the contents of webpages, and the other is the Wordprint technology.
This concept analyses the "DNA" of the keywords it is given and returns a list of related words that Google expects to see in your content, and splits them in three columns: " Lexie ", " Strength " and " Index ".
The software also shares examples of questions discovered in the SERP content analysis: a great tool for writers lacking inspiration on a topic.
Thanks to its machine learning algorithm, SEO Quantum creates a semantic cluster by analyzing the competitors positioned on the same topic and therefore on the same keywords. This tool is based on artificial intelligence, so by knowing what your competitors are doing, you can do better than them by creating more relevant content.
Advantages:
Several subscription plans
Time saving
User-friendly interface
Disadvantages:
Risk of having content similar to others
Be careful with over-optimisation
Visibilis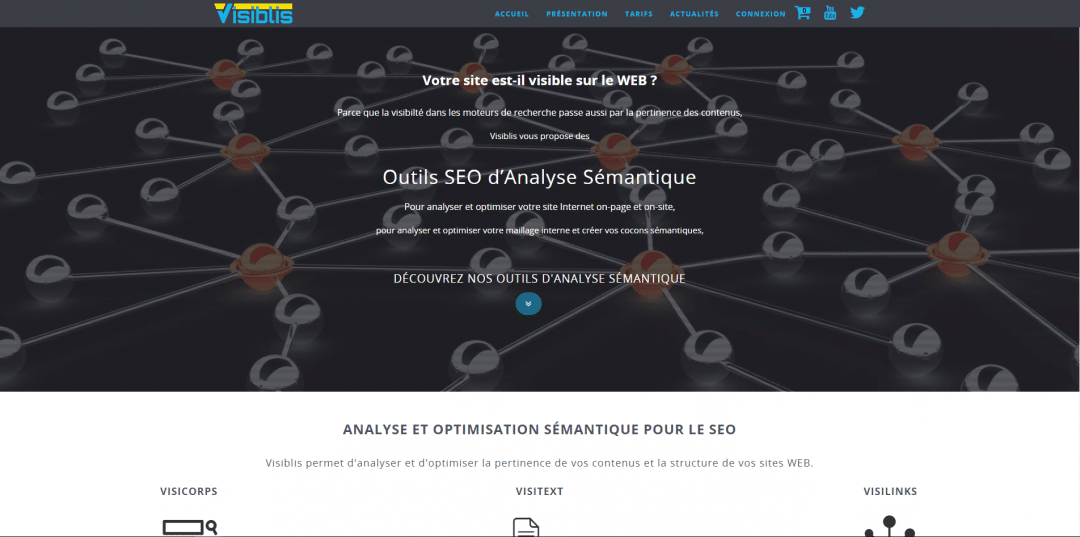 Visibilis is a semantic analysis tool that will help you optimize your content by providing you lists of keywords and key phrases related to your topic.
Ideal for online content writing, it gives you a wide range of words related to a topic to help you rank more easily.
It also allows you to visualize the semantic cluster, to make sure your links are aligned, and to check if your website is properly structured.
This tool will extract a semantic cluster from the texts of the webpages found on the SERP according to the tf.idf model and the Salton cosine. The resulting data is displayed either as a table of co-occurrences or as a writing guide.
Visibilis also provides lexical fields to be used according to given keywords or phrases, and also analyses web pages/texts that you provide and measures their performance.
With Visiblis, sub-tools such as Visitext will track the relevance of your content and help you improve it. This analysis includes the page title and the tag or the text itself. Visitext measures the semantic performance of your web page based on a URL or text.
With Visicorp, you can generate semantic clusters either from the SERP or from URLs that you have previously entered.
Advantages:
Analyzes

the work done on

a

semantic

cluster

Reasonably priced,

starting at

25

€

Possibility

to create your own

semantic cluster
Disadvantages:
Outdated

interface

No free or

trial

version
Textfocus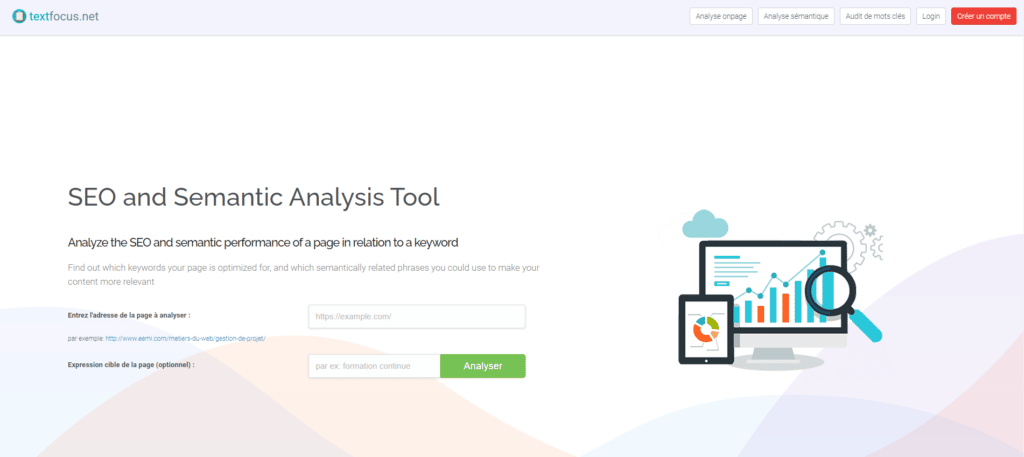 One other tool we recommend is Textfocus.
A powerful tool to check the relevance of your content. The keywords on web pages are analyzed to highlight lexical fields that should be in the text.
By entering a URL in the search bar, Textfocus will provide you with the following data:
Optimi

z

ation:

 

highlights

the

keywords

for which the

page is optimi

z

ed for.

Great f

or writers who want to

make

sure that they have written their texts

with

the right

phrases

.

Suggestion:

 

other

words

related

to

your keywords, and those used by competit

ors

on

the same

topic

. You can remove the words that don

'

t

match

your content

SEO:

a

n SEO and semantic analysis of the page

content,

of

tags, hn, content, etc

…

Lexical:

 

identification

of the

page topic

based on the lexical field used

Keywords:

 

analysis of

all the keywords

on

a

web

page

with

their different positions. You can also highlight the synonyms

related

to

each word in this analysis.

Links:

a

nalysis of the internal mesh

Competition:

shows

the first 10 results of the SERP and

shares

on which keywords you are more efficient than your competitors, and on which you

need to work more

.
Advantages:
Possibility

to

analyze

5 URLs for free each day

Efficient

competitor

web page analysis

Comprehensive

and easy to read analys

e

s
Disadvantages:
Competition analysis is not free in the

"

trial

"

version

Outdated

interface
Today, there are many tools available to help writers create SEO-optimized content. Each tool has its own advantages, but it's best to use different tools side by side for a comprehensive semantic analysis.
Semantic analysis is a fundamental part of writing web content. With semantic analysis writers can make content interesting for readers, by researching and answering their questions.
It's also thanks to semantic analysis that content can be made both more relevant and useful to Google.
Test Semji for free! Create your SEO content brief using the platform's recommendations and create content that answers user search intents.