Semji helps Qilibri balance SEO in its online acquisition strategy
of Google TOP 10 positions

Client
Antoine CHABASSOL,
Qilibri Co-founder
Industry
Diet rebalancing
Semji's Top 3
Identifying high potential content on related topics
Creating SEO friendly content
Winning positions and traffic
Context
Launched in 2019, Qilibri (formerly known as Mon panier minceur) is new to the diet rebalancing market. Gone are the "yo-yo" diets depending on weight loss goals. Qilibri provides its customers with a tailor-made program to maintain a healthy diet over the long term. Customers who sign up online receive dietary support (delivery of balanced menus), follow-up by a dietician-nutritionist and physical fitness training to ensure the success of the program.
Behind this "young start-up" impression, the two co-founders Antoine Chabassol (Label Box) and Bastien Moreau (Jumia) are quite familiar with the tricks of entrepreneurship. They know what strategy to adopt to tackle the diet and wellness industry and challenge the established players.
SEO is an essential part of our growth,
we integrated it right from the start when writing our business plan.
Antoine Chabassol
Qilibri Co-founder

In order to position themselves among the behemoths of the industry such as Comme J'aime, Dietbon or WW, Antoine Chabassol strongly believes that Qilibri must be more visible.
The challenge
Since Qilibri could not avoid the SEA and the Adwords costs that this entails, the startup called upon Semji to rebalance its website's acquisition channels and increase its organic traffic. By using Semji Platform and receiving expert guidance, Qilibri is able to improve its content to optimize its SEO performance. Similar to their food program, Qilibri chose a tailor-made support program, better adapted to its objectives, to lead an efficient and sustainable SEO and content strategy.
The objectives
Successfully transfer the website from Monpanierminceur to Qilibri, without losing Google positions.
Increasing the share of organic traffic on the website qilibri.fr to create a more balanced mix of SEO-SEA acquisition.
Establishing itself on the mature market of diet rebalancing, held by well-established competitors.
Strengthening Qilibri's long-term position on the market by exponentially increasing its SEO traffic share.
Using Semji Platform to increase their SEO content production capacity and simplify their verification process.
Turning SEO into a powerful and sustainable lead acquisition tool.
The diet rebalancing market features a large semantic universe and offers many ways to approach it. In this context, where SEO is an essential part of our growth, support is key to implement a professional strategy.
Antoine Chabassol
Qilibri Co-founder

The support provided by Semji
Identifying high potential content (=important traffic volume) on industry-related topics.
Targeting long-tail keywords for SEO production (good quality/time ratio) in order to quickly drive traffic.
Creating a powerful semantic universe and strengthen the brand's positioning on highly competitive keywords (such as "IMC").
Promoting the expertise of dieticians and nutritionists in dietary rebalancing through content. To meet the criteria of Google EAT and provide increasingly relevant information to online users.
Increasing the skills of internal teams and experts (dieticians, nutritionists…) on the challenges and good practices of SEO.
With Semji Platform, Qilibri has succeeded in setting up a successful Content Factory! In just 10 months, the start-up produced nearly 800 pieces of content, each with at least 1,000 to 1,500 words. According to Quentin Leandri, one of the key success elements is the prioritization of keywords: "Thanks to Semji, we have adopted a highly efficient approach to keyword selection. Before any production launch, we started prioritizing high-volume search queries only, with little difficulty to rank. Qilibri was able to position itself on intermediate keywords but put together generated important and qualitative traffic".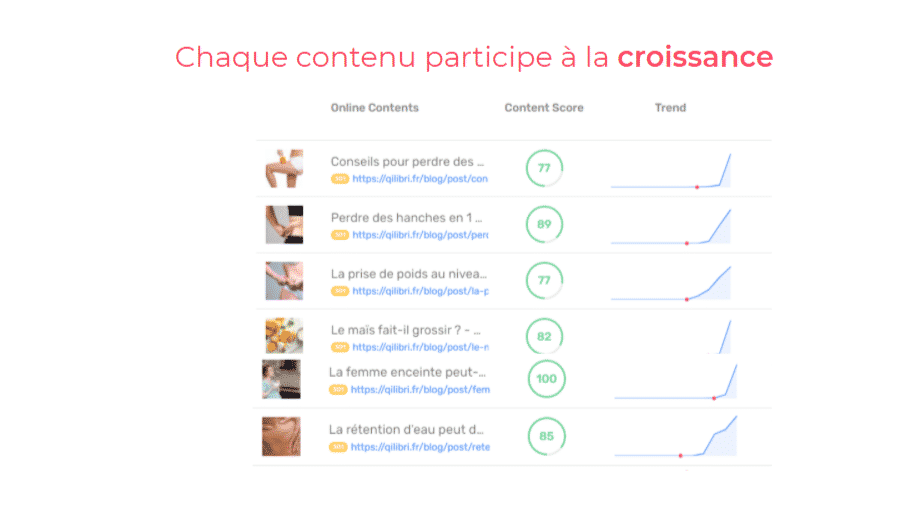 As a result of the prioritization work done with Semji, each content created contributes to the growth of Qilibri. After starting production in January, the website has grown exponentially and in August reached a staggering 60,000 users! Quentin Leandri, is very confident for the future "With Semji Platform, all content brings its share of growth and performance! SEO is known to generate sustainable results over the long term: this trend is only the beginning of a successful growth".

By creating content with Semji Platform, the brand is quickly positioned on strategic keywords as Quentin Leandri explains: "If we look more carefully at the changes in positions and traffic on the strategic query "Lose weight man", we noticed that in May we were in the top 15 with 700 visits over the month. In July, we reached the top 3 results, boosting our traffic to +6000 visits over the month. A number that is all the more encouraging as the queries are decreasing over the time period."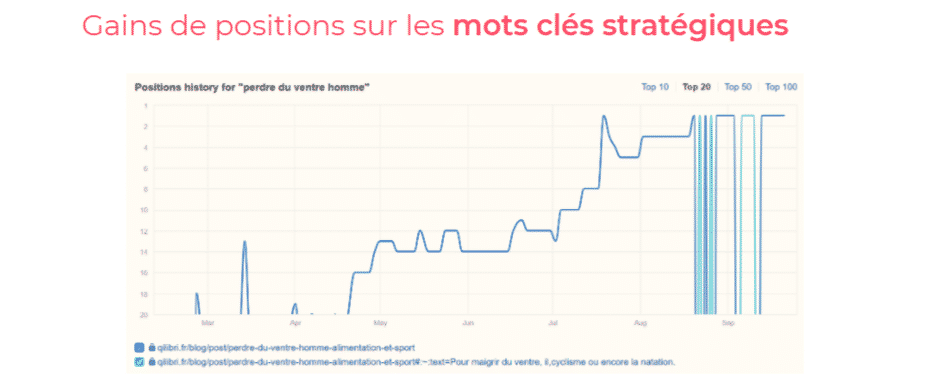 Qilibri's initial objective of rebalancing the share of SEO / SEA traffic is a success. In August, SEO accounted for 50% of the acquisition mix as opposed to 4% a few months earlier. Quentin Leandri says he is delighted with this progress and no longer depends on paid acquisition: "When you have big players on the market with large budgets for paid acquisition, it was essential for us to use SEO to compensate. Today and thanks to the huge amount of energy put into the production of content, the share of SEO has increased 13-fold!
Powered by Semji Platform, Qilibri's Content Factory is a performance model, which doesn't plan to stop anytime soon! Several projects are currently in progress, such as the optimization of the existing content on the blog and the expansion of certain topic clusters in order to position ourselves on new subjects that can bring new business opportunities. As Quentin Leandri points out, SEO is all about ROI.
Semji offers a holistic approach to SEO. In just three months, the support and platform have allowed us to set an SEO powerhouse, with results already visible and an acquisition capacity in the making. Without needing to hire new talents, Semji simplifies our content production processes and reinvents our collaboration methods.
Antoine Chabassol
Qilibri Co-founder