The American giant Google makes many tools available to businesses to help them develop and manage their presence on the internet. Among others, there is Adwords for SEA, Analytics for traffic, Search Console for the general monitoring of websites, Shopping for online store websites and price comparators and Google My Business for your online reputation and local SEO. These tools form a rich palette which you ought to be aware of and master. Semji invites you to explore Google My Business in more detail. Features, interest and use: it's all in this article.
What is Google My Business?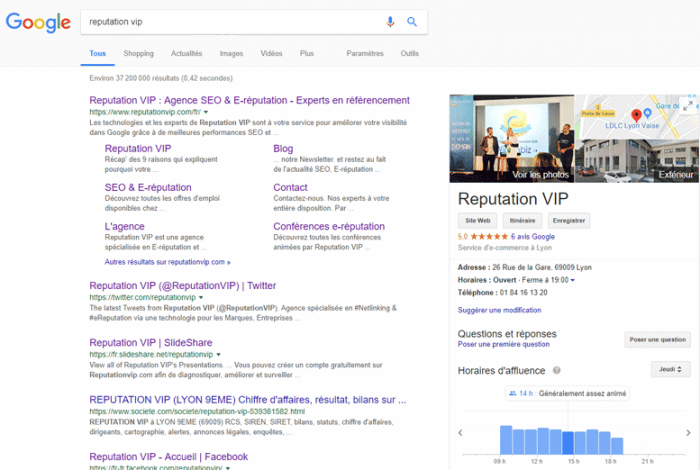 The free service Google My Business appeared in 2014. Its aim is to offer users a sort of ultra-complete, qualified directory. According to the query and the web user's location, business listings are displayed top right on the SERP. They contain the business address, its trade, opening hours, contact information and also photos, users' reviews, a graph showing the busy times, an FAQ with the most frequent questions and associated searches.
A great opportunity for your local referencing
Before its arrival, businesses used to work on their local referencing in 4 ways:
a Google Address page, whose aim was to indicate to Google the information contained in Maps and direct the results of organic searching.
a Google + Local page on which you could find reviews, photos, videos and information relating to the business (address, opening hours, description, services, products etc.).
the content marketing strategy, with particularly content offering information on very specific locations.
Adwords adverts which give the opportunity to be geo-localised, but which remain relatively costly.
This local referencing technique became obsolete as soon as Google My Business was launched. Designed for professionals, this interface offers a new way of communicating and presenting yourself on the search engine. Google My Business can allow you to considerably improve your positioning on the SERP.
Google judges business according to 3 criteria:
the level of relevance between the business and the user's query
the distance separating the business from the location from which the query is carried out
the popularity of the business, taking into account the physical location of the business or not.
An excellent way of building your online reputation
Through reviews, brands communicate publicly with their clients and forge their online reputation. This exchange space is also an additional way for web users to form an opinion on the business through feedback from other users. By letting consumers speak, Google again pushes brands to go up one more step in their level of service. This reason partly explains why greater credit is granted to businesses whose information is up-to-date.
When Google My Business landed on the web, such changes seemed to suggest at the time that Google wanted to be a response engine more and more, beyond being a search engine. Giving the most relevant result to its users according to their tastes, habits and location is now more appropriate than ever. The success, power and development of Google My Business only confirms this.
You haven't yet registered your business on Google My Business? 97% of web users carry out a Google search to find businesses close by, so it's about time you got round to it!

4 tips for designing an SEO-optimised business listing
Contrary to what you might believe, an incredibly high number of businesses have not yet filled in their Google My Business listing. What a pity, as their local SEO will be suffering severely. If you're reading this article, you're already one step ahead. And to keep it, here are 4 tips to apply to exploit the potential offered by this tool.
Integrate your services into your business listing
Reserved beforehand to restaurants and cafés in order to put their menu online, the "Add and modify services" feature is now open to a good number of trades. And it's devilishly effective as it allows you to indicate your services in your listing. So, don't hesitate to give a maximum amount of information to the web user so he or she knows that they have to come to you and nowhere else.
Add a full description of your company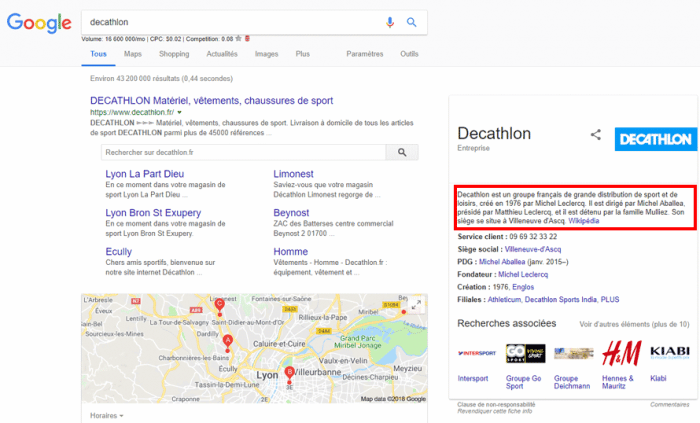 Since April 2018, the tool now offers the opportunity to design enriched business listings. This information can now appear in the local knowledge graph or directly on Google Maps. In this way, the user has additional elements to make his choice from among the various businesses proposed: a great opportunity for you to stand out!
Be careful, however: your description mustn't exceed 750 characters and no URLs are authorised.
Rely on the power of attractive photos
Because an picture is worth a 1,000 words, the best way of sending a realistic and attractive image of your business is to add some photos to your Google My Business. Google reveals that the business listings which contain photos generate 42% of additional queries for an itinerary via Maps. Google My Business undoubtedly drains traffic to your website, up to 35% additional clicks, compared with businesses which haven't fed their profile sufficiently!
A logo, cover photo and additional visuals give you the opportunity to build your brand's global image. Thanks to them, your users will be able to have a better idea of who you are and what you are offering. Don't hesitate to highlight your way of working, your team and even your premises etc.
Pictures must comply with certain conditions: JPG or PNG format, size between 10 Ko and 5 Mo, 720 px by 720 px resolution.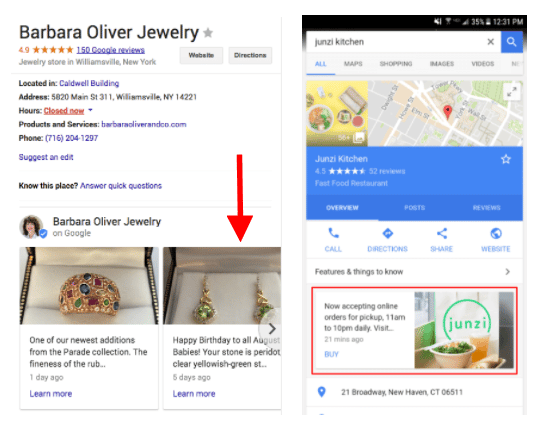 The feature relating to Google Posts gives you the opportunity to highlight important information for your audience:
special offers,
sales,
news,
launch of a new product,
event dates and themes,
information necessary for booking etc.
See Google Posts like a news flash: they must be precise and concise to make people act.
To draw up an effective Google Post, think about the aim of your post, prefer quality photos, a catchy title (58 characters max, the name of your brand included by default), some details (1,500 characters max – don't hesitate to abbreviate days and times) and a CTA! Don't think of Google Posts as purely promotional tools, but as being more informative: a too commercial tone is discouraged.
After having designed several posts, don't hesitate to study the statistics relating to each one in order to identify the messages which work well or less well. You have access to 3 sets of data:
the number of views,
the number of clicks generated,
the percentage of modification of each post.
In order to easily and quickly manage your business listings, use the Google My Business app! Web users will be delighted to find up-to-date information when they consult your business and you will reap the benefits.

The importance of referencing yourself on Google My Business for its local positioning
Local referencing is a little part of the vast world of SEO, but its potential is no less great! Getting organic results from the SERP is a very good thing, but benefiting from visibility at local level is even better!
Whoever says local means targeted and this strategy allows you to position yourself as closely as possible to users' expectations. The figures speak for themselves: after having carried out a local search on a mobile, one person in two goes to the shop during the day. So, shall we get down to it?
An indispensable SEO weapon for your local positioning
The growing importance given to local positioning goes hand-in-hand with the increase of mobile searches carried out. It is anchored both in a problem of roaming and immediacy which characterise queries more and more.
On the same model as an article or page, the SEO optimisations to carry out on your My Business listing are identical: title, description, text, categories etc.
If your company is located right in the heart of Paris with a generic business, it will be difficult to position yourself among the first results if you are only relying on a My Business listing, as sleek as it may be. However, if you're in a village where there is little competition, you can make sure you stand out with a great SEO-optimised listing.
If your business has several geographical locations, it is absolutely necessary to create a listing for each location, never mind whether their close or very far apart. This is the whole challenge of local positioning: benefiting from visibility and standing out to the web users closest to you.
Refine your SEO strategy thanks to additional data
Google Posts already supply you with a certain amount of data to take into account in order to develop the reach of your next publications and also to better pin down the messages which attract and convert the most.
Google Insights gives you precious information regarding the behaviour of your prospects after looking at your My Business listing. You can access the following data:
the number of times displayed
queries for itineraries to your business
number of calls from the listing
number of times photos have been viewed
visits to your website
the way web users have found you (direct access or discovery)
You can moreover cross-reference this data with that of your Google Posts to measure more precisely the effectiveness of your action during a specific period.
The idea is then to aggregate this data with that gathered using other tools for an even deeper analysis. Be careful, however, to manipulate the results with the necessary precaution when cross-referencing data coming from different sources.
An important challenge for your online reputation and communication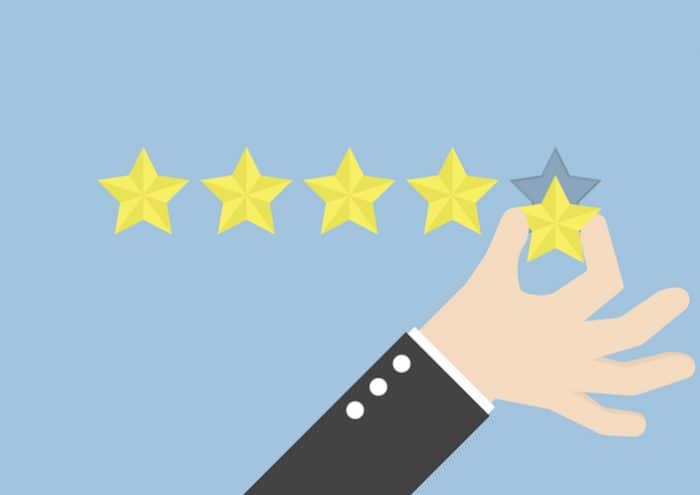 Today, we can say that Google My Business is the most wonderful digital visiting card that a business could have. And also the most powerful. The majority of purchasing intentions begin by a search and Google My Business pushes the relationship between the client and brands even further. This trigger is very efficient for motivating the client to visit the shop.
Read positive reviews: there's nothing more motivating for a web user looking for THE right business to contact. The contrary is true too.
To manage your negative reviews better, the best strategy is to respond to your web users and try to find an appropriate solution for their complaints. Above all, don't ignore them! The important thing is to show that you take negative reviews into account and that you're looking for ways to constantly improve so as to keep your clients even happier.
Look at local positioning as a cog in your marketing strategy which will help your business gain visibility!
What is your affinity rate with a local positioning strategy?
Still not convinced about the potential of local referencing for your business? Here are some indicators which will allow you to evaluate what a local referencing strategy can bring to your brand:
the geographical sector in which your business is located: The winning trio is being located in a dynamic commercial district, itself located in a medium-sized town with competitors whose referencing is thin.
how long your brand has existed: Google privileges precedence and has a tendency to prefer brands present on the web for more than 3 years, compared with new arrivals.
an appetite for web marketing: has your business been undertaking regular action for at least 2 quarters and is active on the web?
the budget you can devote to this web marketing strategy and to working on local positioning.
So, do you meet at least one of these criteria? If the answer's yes, local positioning has real advantages for your brand, so let's go!
Google My Business is a very useful solution for your visibility, traffic and shop traffic. Free, simple to use and effective: all good reasons for using this tool!
In the context of a national search, it's must more difficult to position your website among the first search results on the SERP, but with geo-localised searching, it's much easier to stand out… and to attract customers close to you! Google My Business is the most interesting marketing lever for exclusively local businesses.
A true cornerstone of your local SEO strategy, Google My Business can allow you to TRULY make a difference.