By Nathan Munn
Content Writer, Heyday by Hootsuite
Having a consistent stream of high-quality organic web traffic is crucial for a successful e-commerce strategy.
While paid advertisements play an important role in delivering qualified visitors to a site, organic traffic—generated by strong Search Engine Optimization (SEO) practices—is critical to growing a site's authority over time.
This authority in turn contributes to the authority of a brand in a particular market, helping attract not only visitors but also to grow a brand's reputation and value.
Acquiring organic traffic, however, is only half the battle. Once you're pulling in visitors, the question becomes: how will you convert those visitors to paying customers?
Discovering the elusive answer to this question has always been the Holy Grail of e-commerce. And while the techniques and tactics used to improve conversion rates have evolved over the years, today the ability to personalize the online experience is transforming digital shopping as we know it.
Below, we'll dig into how you can evolve from using outdated methods to convert traffic and begin delivering truly personalized experiences across digital touchpoints.
By doing so, you not only future-proof your operations—you will also be able to deliver five-star customer experiences at scale.
What is Personalization?
Personalization is the art and science of creating unique online experiences tailored to individual users.
While even 10 years ago it wasn't yet possible to create truly personalized experiences online, today nearly every engagement between your brand and a customer can be personalized—thanks to the constantly-updated data about web users that is gathered and stored by various web services.
Until recently, the most effective way to collect and leverage the data necessary for personalization was to use tracking cookies. Now that this standard has been abandoned by Google, new ways to maintain engagement across touchpoints (including website, social platforms, and chat apps) are being developed.
Thought leaders believe the shift away from cookies is fundamentally changing the relationship between brands and their customers. In order to foster brand loyalty and grow market share, they argue, brands must now be available and responsive on customers' preferred channels, 24/7. In their words, "Helping is the new selling."
Since your brand cannot rely on cookies to tell them what their customers are interested in, they must engage with customers directly, and gather first-person insights on their desires, concerns and pain points.
What does this mean for your brand? It means conversations are the new cookies.
The conversation—defined as an engagement between two or more parties, and where an exchange of information takes place—has always been at the core of commerce, and today it is at the core of digital commerce as well.
The challenge for your brand in this new era is this: how to manage thousands of 1:1 conversations with customers, across a range of channels, while still maintaining a high level of service and without breaking the bank?
The answer, as you may have guessed, lies in automation. Today, the most effective way to deliver and manage 1:1 personalized experiences at scale is with conversational AI.
What is Conversational AI?
As its name suggests, conversational AI is artificial intelligence we can talk to.
Unlike old-school chatbots, however, conversational AI virtual assistants don't simply give canned answers to basic questions. AI-powered virtual assistants engage in dynamic conversation, get smarter with time and can respond to questions with questions of their own—allowing them to continue learning even as they serve customers and solve problems without human help.
In the image below, you can see how the AI virtual assistant for Make Up For Ever, created by Heyday, engages with a customer to determine which beauty product is right for them: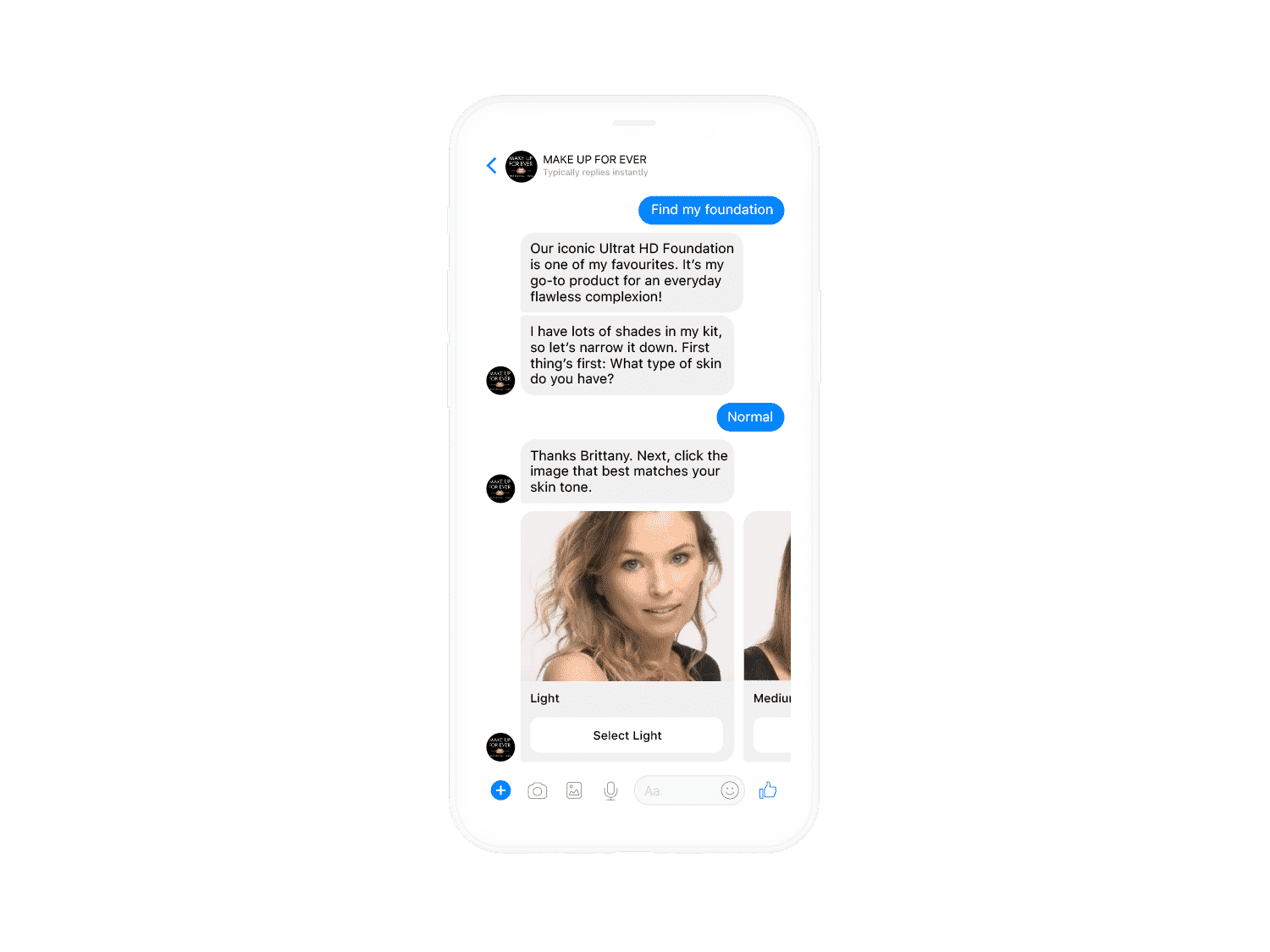 When it comes to converting organic traffic into sales, directing site visitors into a conversation with an AI virtual assistant, rather than sending visitors to static landing pages, is an effective way to improve conversion rates.
With AI, you can ensure every site visitor receives a personalized experience, rather than a one-size-fits-all landing page.
Whether your visitors have questions about your products, or they are simply exploring the website, conversational AI ensures all visitors receive a warm welcome and that engagements are based on their intent, as discerned by the AI.
Benefits of AI Personalization
Personalizing the online shopping journey with conversational AI not only creates memorable experiences for customers, it also delivers immediate benefits for your brand. While each configuration of a virtual assistant is unique, using AI to automate responses to FAQs (for example, responding to queries around order tracking, store locations, opening hours and other simple questions) can immediately reduce the workload of customer care teammates by up to 80%.
For example, after integrating a conversational AI assistant on digital channels, gourmet tea brand Kusmi Tea achieved a 94 percent automation rate for customer inquiries in the three months after launch. During the same period, the average response time for customers contacting Kusmi fell from nearly 10 hours (before adopting conversational AI) to less than 3.5 hours one month after roll-out.
Below, you can see how the Kusmi AI virtual assistant quickly responds to customer inquiries, taking these low-value questions off the plate of human teammates: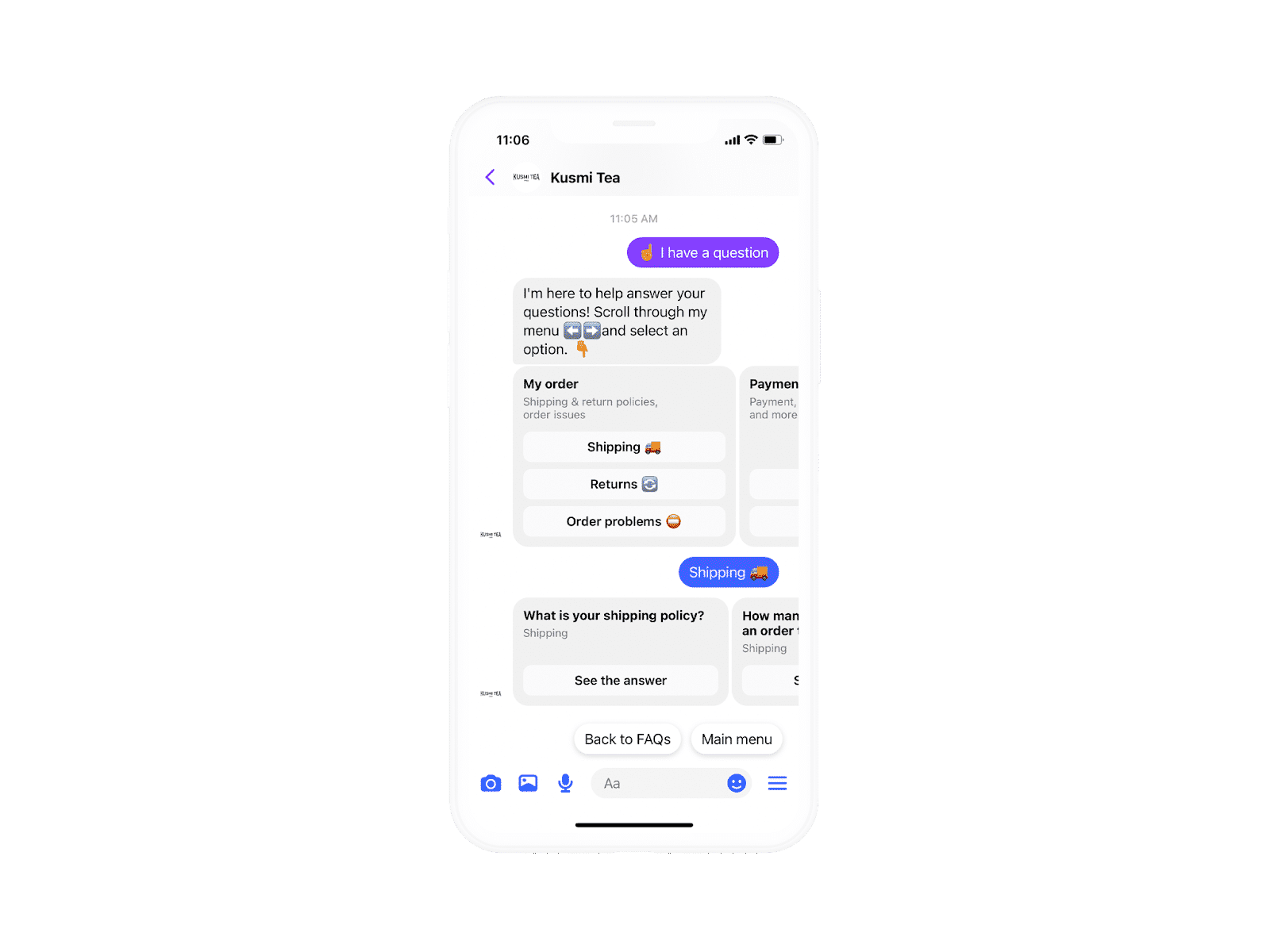 This is why major brands are adopting AI personalization with conversational virtual assistants: the return on investment is so compelling, and the value delivered so high, that it's truly a no-brainer for brands with thousands of daily customer interactions to manage.
That's not all. AI personalization also shines when it comes to upsells, thanks to in-chat product recommendations that match perfectly to a customer's interests.
Beyond these specific examples, the compelling nature of personalization makes it key to improving CX and fostering brand loyalty at every step of the customer journey.
Examples of AI Personalization Best Practices
Below are further examples of leading AI personalization tech in action. In these images, you can see how Heyday AI chatbots respond directly to a customer inquiry about store locations with helpful advice.
Not only that: the virtual assistant, nicknamed DECA, asks the customer to provide a city name or postal code to allow the AI to direct the customer to the nearest store.
After receiving an answer, DECA provides the answer the customer needs.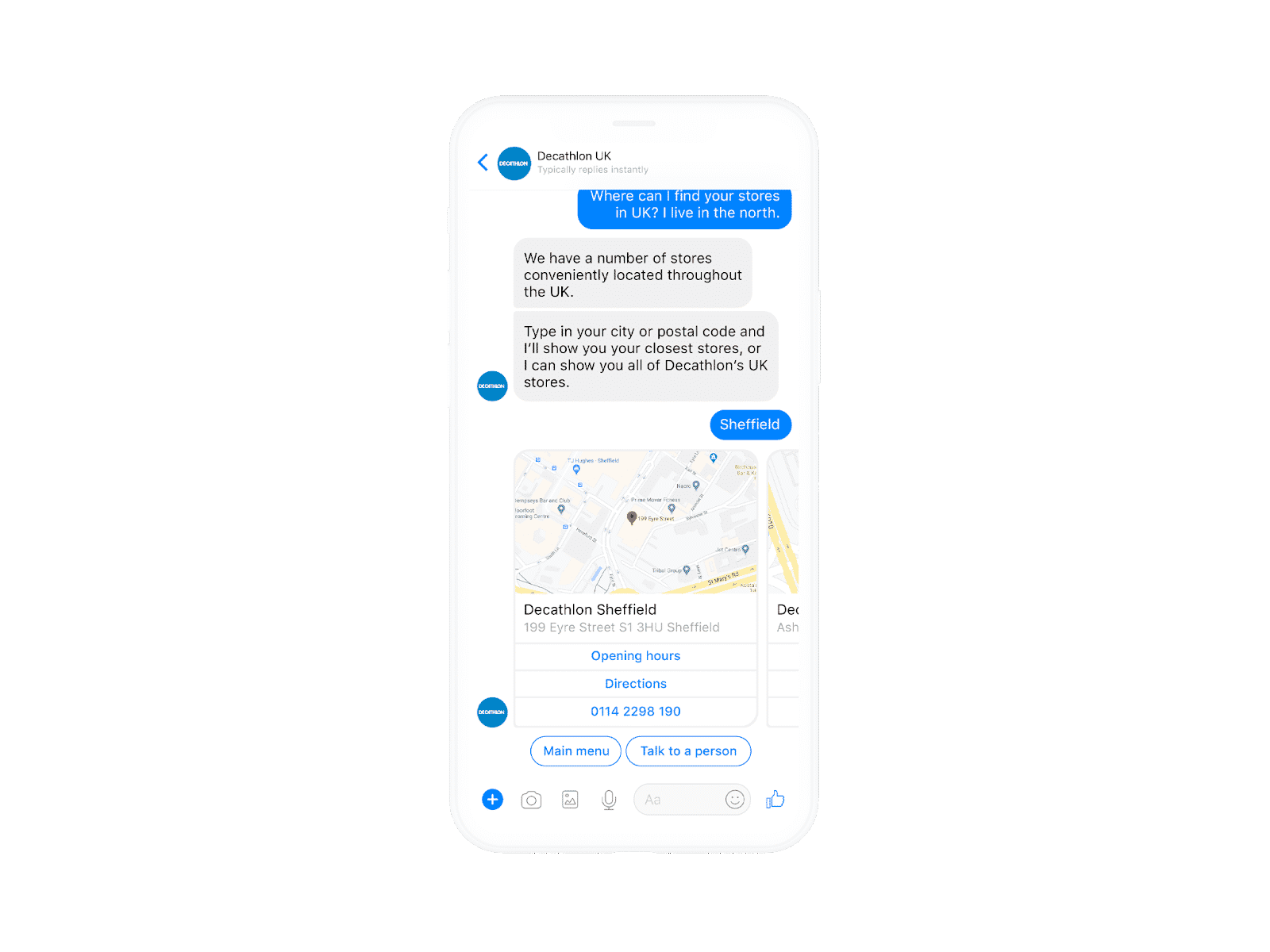 On the back end, you can see in the next image how the Heyday platform makes it easy for customer care teams to track all customer conversations across channels.
This simplifies the process of ensuring every customer receives the help they need—even if that means handing off a customer from the virtual assistant to a human teammate, in the case of more complex questions: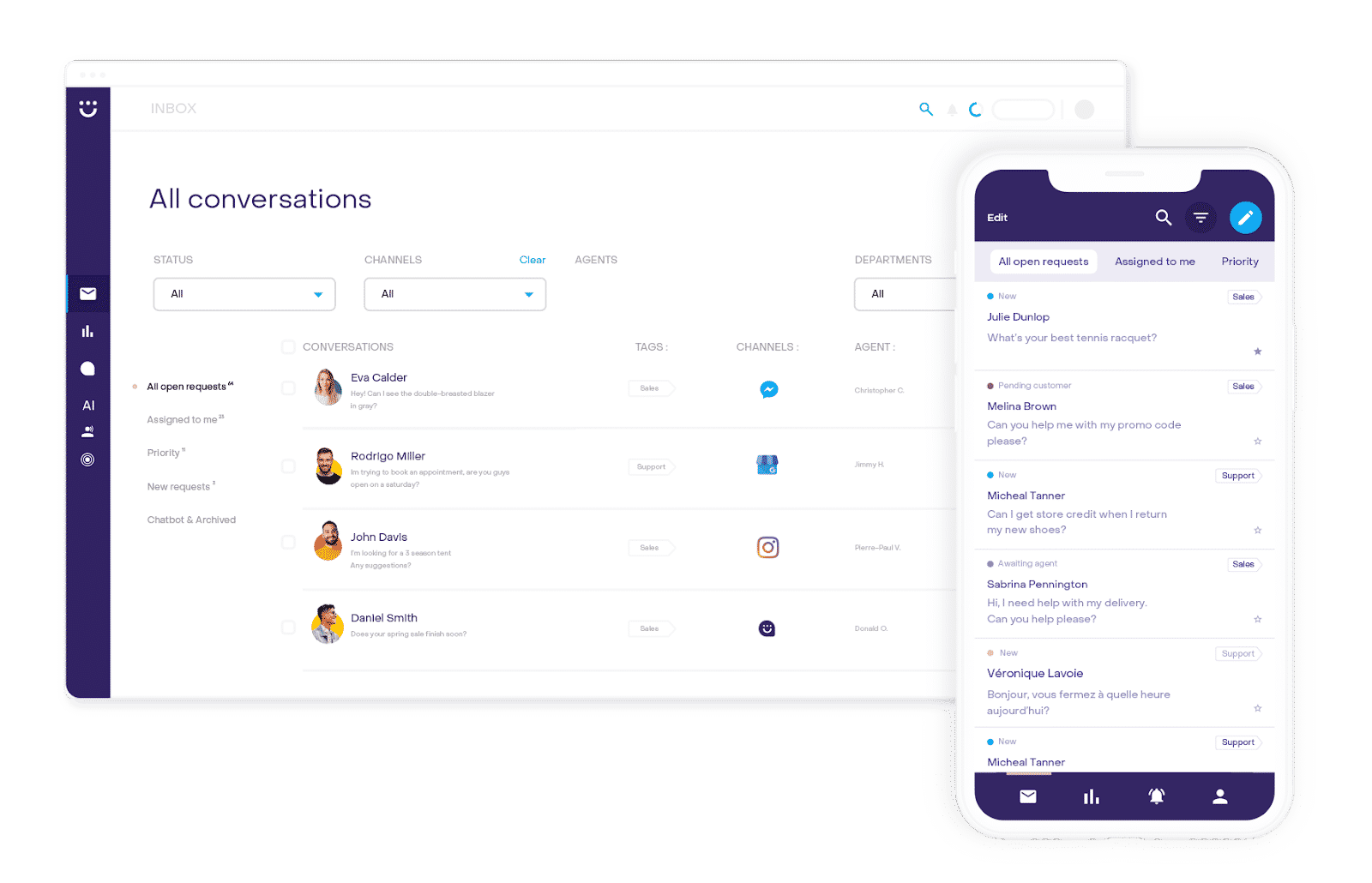 Taking CX to the Next Level With AI
Conversational AI isn't only ideal for converting site visitors—it's also the most effective way to automate customer care at scale.
FAQs around order tracking, store locations, and opening hours can be easily handled by an AI virtual assistant, while more complex inquiries can be quickly handed off by AI to human teammates, ensuring customers enjoy first-class service whether from bot or human.
What's more, conversational AI can also recommend products matched to the interests of site visitors, helping increase sales and grow revenue over time.
Knowing this, it's clear that an AI virtual assistant is key to getting the most value out of organic traffic—and that the time to integrate AI with your conversion strategy is now.
Learn more about how conversational AI can help you get the most out of your organic traffic by booking a demo of Heyday by Hootsuite today.