Decathlon boosts its content SEO with Semji!
increase in SEO traffic for optimized content
of new content driving SEO traffic
Clients
Mathilde BRIFFA,
SEO Manager

Emilie DUFOUR,
Digital Project Leader
Industry
Retail / Sport
Semji's top 3

Content prioritization for optimization
Improve SEO performance
Team collaboration
Context
Decathlon is part of the "Top of mind" company category – according to a study published by JDD. It ranked first for the second year in a row among the most admired companies in France. The company stands out thanks to its innovative capacity and its close relationship with its community.
Every day, people use Google to find information on sports, and Decathlon aims to provide them with the best possible advice. This is where Mathilde Briffa, SEO Manager, and Emilie Dufour, Digital Project Leader at Decathlon, in charge of the Conseil Sport de Decathlon website, come into action.
"Why create content about sports? It's a way to stand out from our direct competitors, who have a weaker editorial strategy, as well as a way to challenge other lifestyle brands (women's, health and wellness websites) or sportswear brands (cycling, fitness, yoga, etc.), which have a strong online following. This content also reflects the existing relationship between our sales staff and our customers in stores, known to be friendly and family-oriented". As Emilie Dufour points out, maintaining an open conversation with your audience is key to strengthening the brand's appeal among online shoppers.
As in any content strategy, the key objective is to maximize each content product's visibility. But how can we rank as much Decathlon content as possible on Google and increase its impact?
Consumer trends are shifting towards online shopping. We had to adapt to new shopping behaviors, and be available where athletes expect us to be by taking the lead on all sports-related Google queries.
Mathilde BRIFFA
SEO Manager
The challenge
It has been 4 years since Decathlon launched its Conseils Sport website aimed at people who want to exercise. Its ambition is to encourage as many French people as possible to practice more regularly, thanks to advice and tips to progress and improve.
The brand is ready to show its expertise on the subject! It has published more than 2,000 pieces of content written by sports experts, giving it an impressive reach. However, even if Decathlon has a clear lead over its direct competitors in terms of volume, it discovered that only 48% of the content produced is ranked on Google and receives SEO traffic.
This is where Semji joins the race. Decathlon has plenty of room for improvement, so they've equipped their writers with the Semji platform to help them optimize their content for better Google ranking.
We were immediately impressed with Semji Platform's user-friendly nature. Quickly, our writers applied SEO best practices to write efficient web content while keeping Decathlon's editorial tone.
Emilie DUFOUR
Digital Project Leader
The objectives
To become the top brand for Google on sports-related advice.
Increase the SEO visibility of existing and future content.
Improve the average SEO performance of each new content.
Identify new topics to cover in order to increase SEO market share.
The support provided by Semji
Training of Decathlon teams in using Semji Platform.
Competitive audit to analyze the strengths of each competitor and identify new opportunities.
Editorial SEO audit to fix the technical constraints preventing proper referencing of content.
Prioritization of existing content to be updated with Semji's technology.
New content suggestions to be created according to the editorial strategy to win new SEO market shares.
Semji Platform saves us a lot of time in organizing our editorial calendar and in producing content. By prioritizing the most relevant SEO queries, we get a very clear and shared vision among team members of where we want to go.
Emilie DUFOUR
Digital Project Leader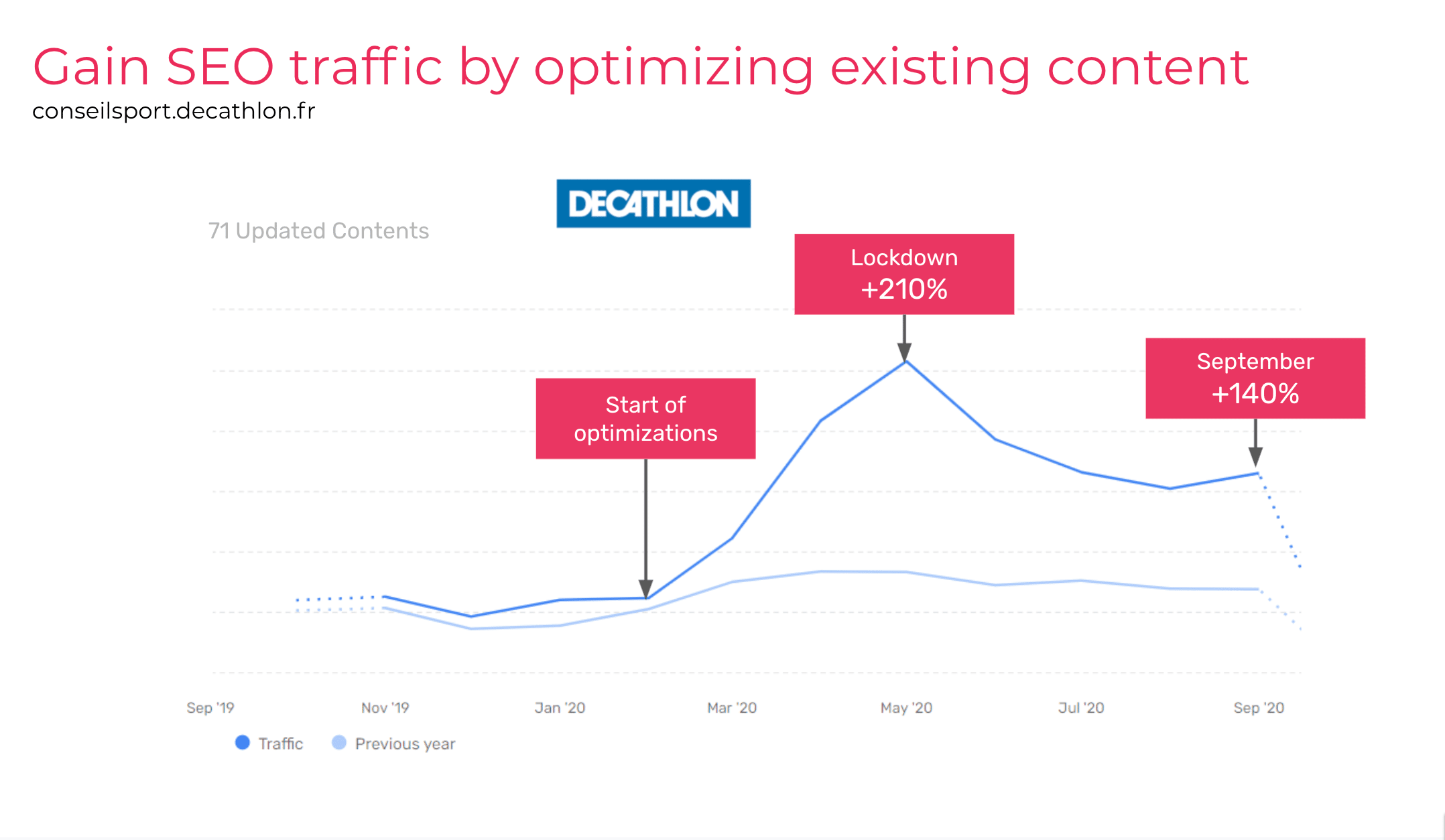 Among the 2,000 existing contents on Decathlon's Conseil Sport website, the first objective was to identify those that needed to be optimized first. Semji Platform based its prioritization on two main criteria: the potential traffic win and the editorial effort required.
After identifying the "winning" contents, Decathlon started updating them and saw its SEO traffic grow in record time. With an increase in organic traffic of +140%, the first 71 contents optimized with the platform have enabled the brand to achieve a great performance growth of +110 000 monthly SEO visitors.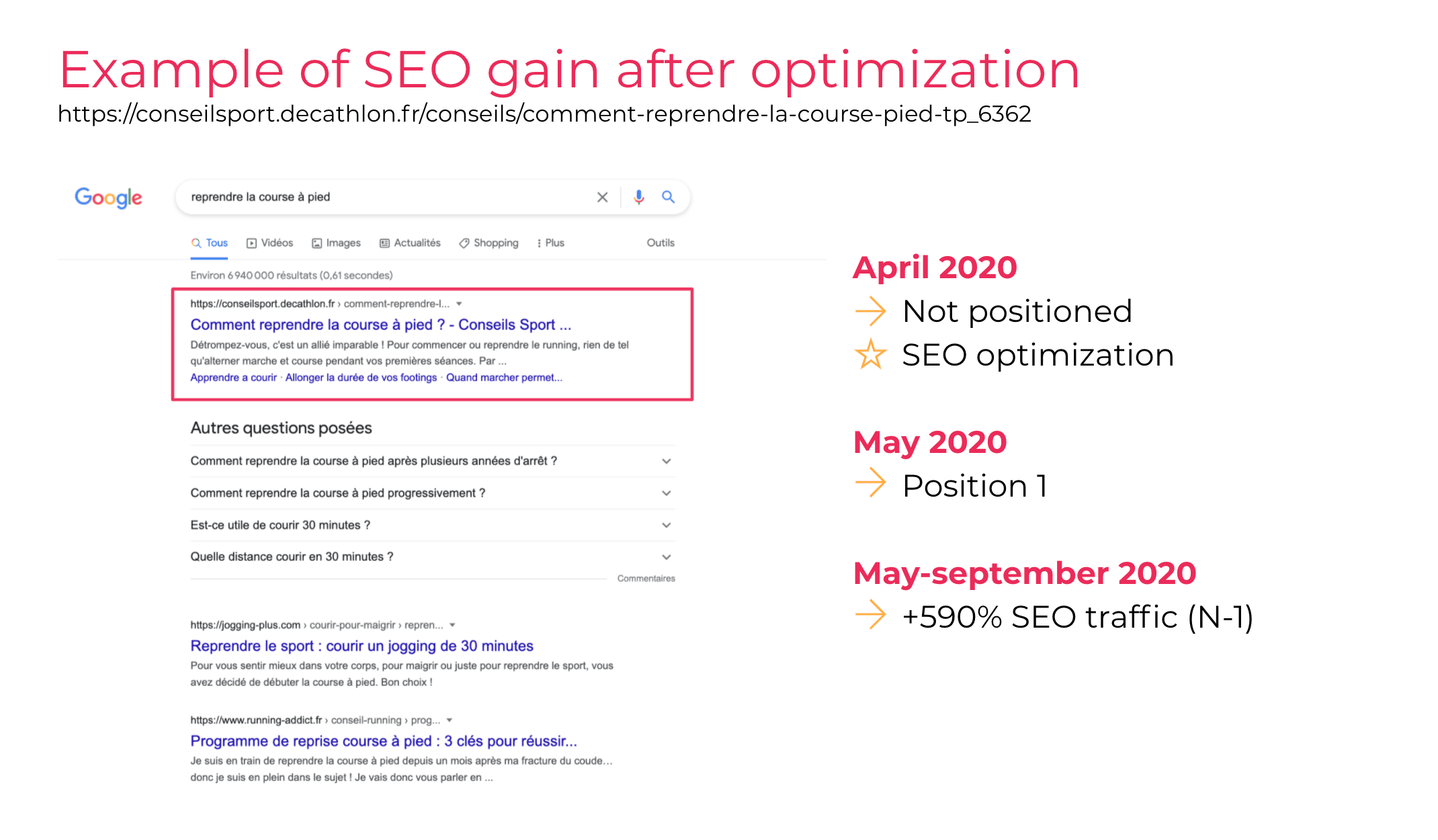 With Semji Platform, every optimized content helps win new SEO market shares. For example, the article "How to start running again?". It was not positioned in April 2020, but thanks to an optimization performed with Semji Platform, it reaches the 1st position on the keyword "start running again"!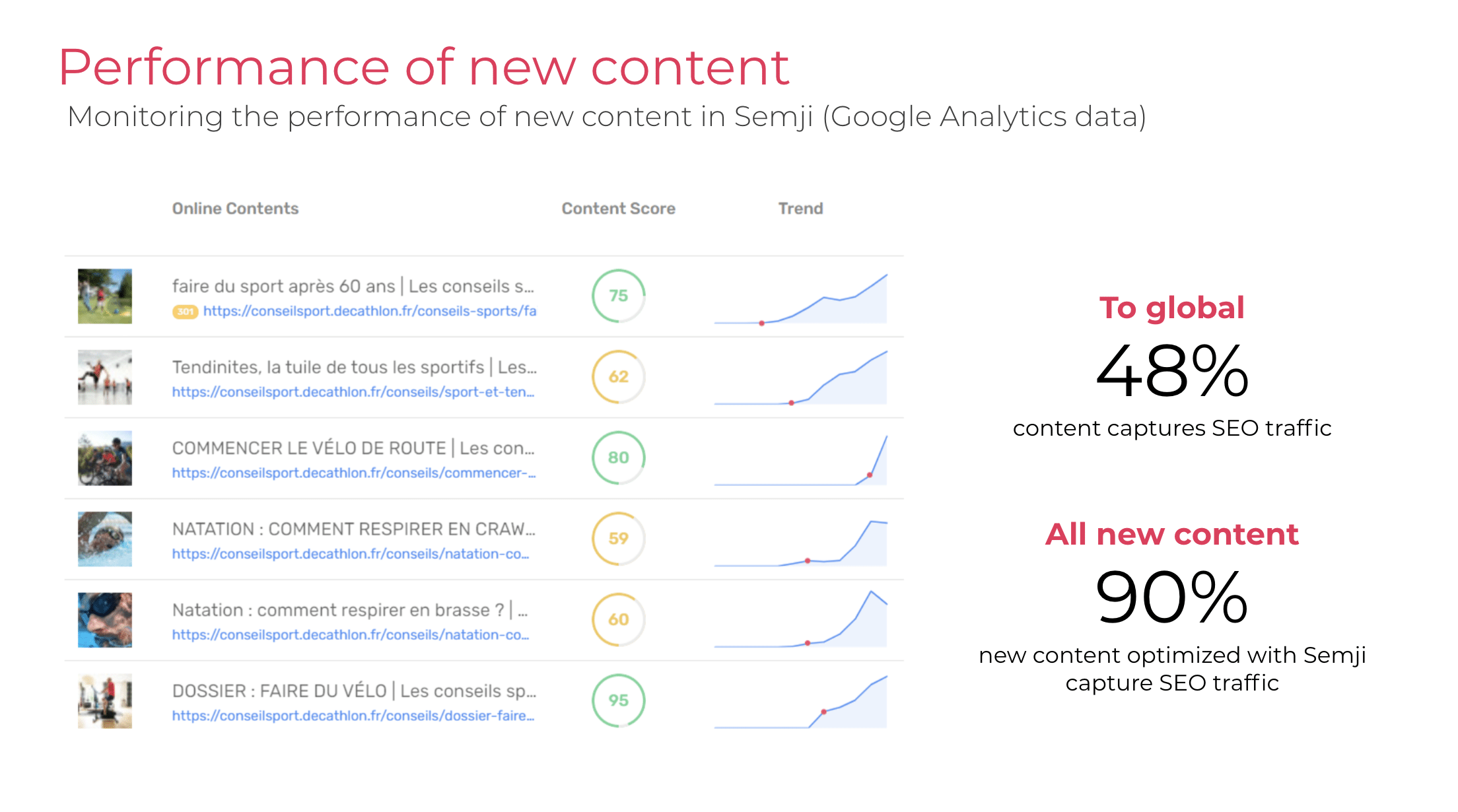 Once the optimization of the existing content has been done, the second race can start. With Semji Platform, Decathlon discovers new content to create, new queries to target, with the only purpose of winning even more SEO market shares. The results are very impressive, as 90% of the new content created and optimized with Semji is now attracting SEO traffic (compared to 48% according to the initial audit).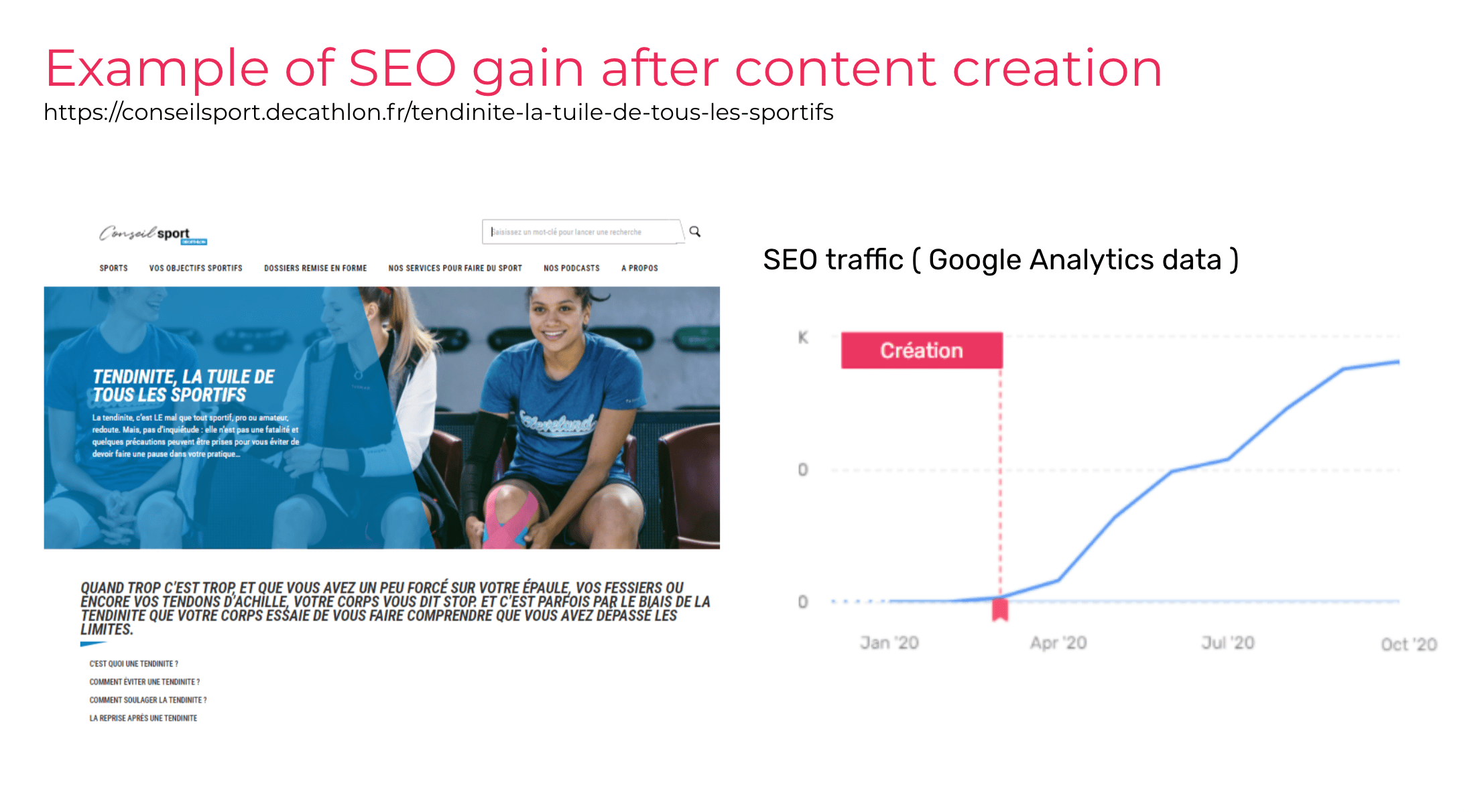 Among these new contents, Decathlon wanted to cover a subject that speaks to many athletes: tendonitis. Thanks to the platform and behind this popular query, the writers discovered, among other things, the expectations of online users, the most popular associated searches, and the competing content to outperform. Quickly, they structure their plan and use their expertise to cover all the topics and meet all the needs around this subject. These efforts are quickly rewarded: following publishing, this content quickly sees positive growth in traffic.
What are the opportunities in terms of content strategy? Emilie DUFOUR sees several aspects to this strategy, such as "taking a more active role in other key areas (health, well-being, nutrition, etc.), developing a more holistic approach to sports (eating well, being healthy, etc.) and further expanding the range of content formats (podcasts, videos, infographics, etc.)". Semji Platform will be an essential tool for the team to meet these new challenges.
To go further, watch Mathilde Briffa's (SEO Manager) and Emilie Dufour's (Digital Project Leader) share their experience with Semji during our last webinar. In this conference, you will discover their feedbacks and tips to increase your content's SEO performance!
Do you need an SEO audit?